Hire a Bellydancer for your next event

Make your upcoming event memorable by hiring one of Edmonton's Favorite Bellydancer's for your next event. Zahra has performed across Canada, in most of Edmonton's Greek and Lebanese restaurants, as well as many local festivals and events.
Desert Rose Dance Studios offers professional entertainment services for Weddings, Birthdays, Bridal and Baby Showers, Corporate Events, Special Celebrations and Promotional Events!
We offer:
Belly Dancing Performances
Private Group Belly Dance Classes Bellydance Performance Class Combos
We will create an elegant and interactive event experience your guests will never forget!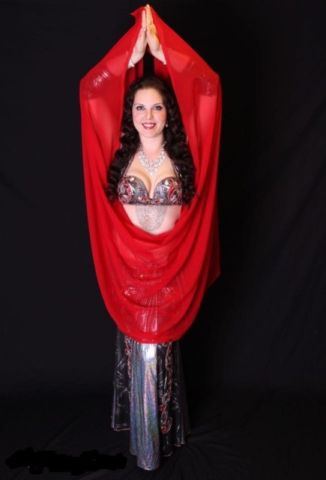 Professional Belly Dance Performance
This 20 to 25-minute show will inspire all! Bellydance shows are elegant, upbeat, and fun. Completing the show is an interactive "Audience Participation" segment to engage and delight your guests! We always provide an exciting, refined and breath-taking form of entertainment for the enjoyment of everyone! Performances can be tailored to a variety of venues and occasions.
Shows can include a prop such as sword, veil, zills, isis wings, and silk fan veils. Special prop requests can be made in advance and may require additional fees. Shows can include a prop such as sword, veil, zills, isis wings, and silk fan veils. Special prop requests can be made in advance and may require additional fees. Shows may include a prop such LED Wings, veil, zills (finger cymbals), isis wings, cane, and silk fan veils. Special prop requests can be made in advance and may require additional fees.
Belly Dance Class
This inspiring and motivational one-hour Belly Dance Class will get everyone moving, laughing and dancing together! Learn fun and exciting Belly Dance movements from a professional Belly Dancer! Excellent interactive entertainment for Bridal and Baby Showers, Birthday parties and even team building! Coin Belts provided for use during the class.
Belly Dance Performance / Class Combo
This Show-Class Combo gives your guests a chance to be visually inspired by watching a professional Belly Dancer, and then have the opportunity to get up and learn Belly Dance movements with her! Coin Belts can be provided for use during the class.
A Bellydancer is a wonderful addition for events such as:
*Corporate Events

*Weddings

*Restaurants

*Stagettes

*Bridal and Baby Showers

* Fundraisers

*Cultural Events

* Birthdays

*Anniversaries and Retirements

*New Years Eve functions

*Grand Openings

*Holiday Parties and Events

Ready to Book a Performer for Your Next Event?
We are delighted to present our Event Services for your consideration. Contact us to discuss your event! Please be ready to provide the following information:
Date of Event, Time of Performance, & Location of your Event
Call us at 780-604-2685 or email us at

info@desertrosedancestudios.com
for more information or a price quote.
Desert Rose recommends booking well in advance of your event to guarantee Performer availability. Desert Rose does not contract for Bachelor parties.
What past clients are saying: Desert Rose dancers were AWESOME! I heard absolutely nothing but rave reviews! An absolute joy to work with, professional, organized, and helpful as our organization (the Lakeland Humane Society in Cold Lake, Alberta) moved through the process of booking for our annual fundraising gala. The dancers arrived on time, fully prepared, and when they took the stage, there wasn't anyone in the crowd of 500 who could take their eyes off them. As they danced their smiles were contagious and everywhere you looked around the room there were people smiling back. The dancers were definitely the highlight of our gala and we can't thank them, and Desert Rose Studios, enough! - Cathy, Lakeland Humane Society - February 2016
"On behalf of Generously Giving Back Charity, we would like to thank you for a spectacular performance, the audience loved your flamboyance. Having your belly dancers interact with the crowd was awesome!! Susan - November 5th 2016
Past Clients Include:
Ankur Multicultural Association Koutouki Taverna Kebab Express Cosmos Greek Restaurant Sultan Palace Edmonton Lebanese Festival Capital Ex La Shish Mayfield Habesha Chateau Beirut Lakeland Humane Society Generously Giving back Charity Portuguese Community Khazana Restaurant Istanbul Restaurant Yiannis Taverna KC's Caverna Albert's Family Restaurant Something Else Restaurant Sahara Palace Servus Credit Heritage Festival Headquarters Restaurant & Bar Parkallen restaurant Phoenicia Lebanese Restaurant Nara Hookah Lounge Passport Restobar Syrtaki Greek Restaurant Co Co di Mediterranean Gregg Mediterranean Oil Lamp Mythos Greek Taverna
Follow Zahra on Instagram & Facebook to see dance videos and more photos.