Zahra
Since childhood Zahra has been exposed to Middle Eastern music and culture through her Egyptian-German heritage, which sparked a passion for dancing. In 2006, Zahra began her formal study of Middle Eastern dance after taking her first workshop and falling in love with the art form. Her passion led her to perform at many festivals and events such as; Capital Ex, Cariwest, the International Fringe Festival, the Heritage Festival, the Lebanese Festival, Kaleido Family Arts Festival and many other venues. In 2008, Zahra was invited to join the Edmonton Bellydance Ensemble whom she trained and performed with for 2 years. With EBE, she performed at the International Bellydance conference in Toronto in 2010, and was a principal dancer in EBE's sold out shows "East Meets West", and "Imratu".
Zahra continues to nurture her love of dance by participating in workshops and continually studying the dance and culture. She has participated in workshops with world renowned dancers such as: Mohamed Shahin (Egypt), Randa Kamel (Egypt), Tito (Egypt), Aida Nour (Egypt), Hadia (Canada), Azizza (Canada), Bozenka (USA), Jillina (USA), Yasmina Ramzy (Canada), Cassandra Shore (USA), Sonia (USA), Rachel Brice (USA), Nath Keo (Canada), Colleena Shakti (India), and more.
Zahra has completed all 3 Levels of Middle Eastern Dance Instructor training with Hadia. She has taught at Grant MacEwan University and Golds Gym and is the Co-Owner of Desert Rose Dance Studios where she currently teaches regular classes and workshops. Zahra's passion is sharing the art of Bellydance with her students and she enjoys seeing women of all ages and backgrounds embrace their femininity through dance. Zahra is a popular performer in Edmonton, where you can find her performing in many Greek, Turkish, and Lebanese restaurants as well as private events for weddings and special events.
Yasmeen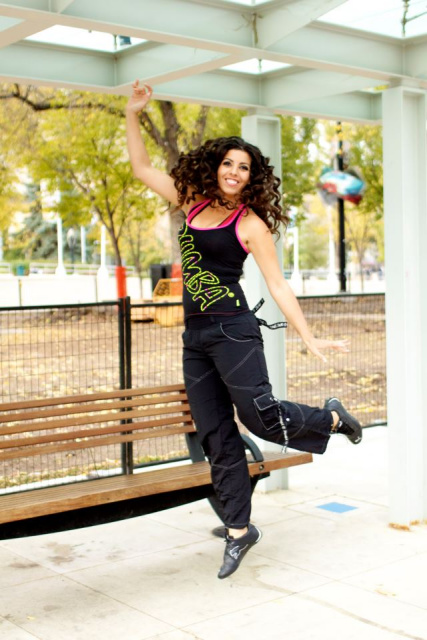 From a young age Yasmeen has had a love of dance and culture. Coming from an Egyptian-German background she was introduced to belly dancing as a child. Yasmeen started to pursue belly dance in grade seven after her mother took her and her sister Zahra, to an intro belly dance class. Since then Yasmeen has performed in many festivals and city events as a soloist and in various troupes. In 2008, and 2010 Yasmeen took part in the International Bellydance Conference of Canada and participated in workshops with world renowned instructors like Tito (Egypt), Ada Nour(Egypt), Jillina (USA), and Bozenka (USA). Having joined the Edmonton Bellydance Ensemble (EBE), she performed at the IBCC 2010 as a part of the troupe as well as in EBE's debut show "East Meets West" and "Imratu". Yasmeen has successfully completed Hadia Bellydance Teacher Training levels 1 and 2 and performs regularly in Edmontons Greek, Turkish, and Lebanese restaurants.
Yasmeen not only loved the Middle Eastern culture and music but was also was drawn to Latin music. It was not until 2008 that she began formal training. In 2010 Yasmeen auditioned and was accepted in the Ladies Dance Team, SALT who she performed with at the International Salsa Congress of Calgary in 2011. In March 2011, Yasmeen successfully complicated the Zumba Fitness Instructor Training and has been actively teaching Zumba in Edmonton ever since. Yasmeen's love of Latin music and culture has helped her develop a growing Reggaeton dance program at Desert Rose. She currently directs a Reggaeton Dance Troupe who perform regularily at Edmonton's festivals including the Heritage Festival, Latin Festival, and Kaleido Family Arts Festival.
Elise
Elise's passion for dance came at the young age of five. Starting with various styles such as jazz, ballet, lyrical and tap, dancing gave her some very memorable experiences that took her around North America and through her childhood. It wasn't until later on in her late teens she thought she would try a few ballroom classes to see if she would like it… eight years later she hasn't seem to "shake the ballroom bug" and teaching people of all ages and levels has rewarded her with wonderful memories, accomplishments and opportunities.
Elise began her professional career in ballroom, training and teaching for an international studio here in Edmonton eight years ago, and then took her skills to the UK where she taught and performed in London through 2013.
Alongside dancing, Elise has found a passion for the health and wellness industry, and regularly teaches a dance inspired fitness program known as the MOC Barre Method, (commonly known as Ballet Barre Fitness) which allows her to use her vast dance background, bringing a strong technical element to her classes.
Excited to be back in the Edmonton dance community, Elise continues to teach her love for dance and fitness, and can't wait to see her students begin their dancing journey!
Maxwell
Maxwell has been exposed to most Latin cultural music and dance since a young age when he lived in El Salvador. These dances included salsa, merengue, cumbia, and bachata. He started representing Edmonton, Alberta professionally in 2001 through performing, and teaching. He has performed, attended and taught at many World Salsa Congresses in places such as, Los Angeles, Vancouver, Puerto Rico, Miami, Toronto, Calgary, Winnipeg, Saskatoon, San Francisco, as well as various functions in Edmonton. Maxwell has also participated in many competitions since he started his professional dance career.

Maxwell started his teaching career in Edmonton in 2000 at Grant MacEwan College and then transferred to Latin Corner Dance Company to teach from 2002 to the end of 2007. At the start of year 2008 he founded his own school, Unique Dance Company. At Unique Dance Company, he instructs, performs, and is the choreographer for the company's student dance team. Maxwell has taught in various places throughout Canada, and the USA including Calgary at their 2nd Annual International Salsa Congress. He will be going back home to El Salvador this year in the fall to teach in their second International Congress.

Teams:
From 1996 to 1998 Maxwell danced with a folk lore dance group called Sangre Morena. In 1998 he started dancing with the salsa group Azucar until 2002, at which point he became a member of Salsa Team Canada from 2003 to 2004. From 2002 to the end of year 2007 he danced with Latin Corner (Edmonton) Dance Team. In year 2007 Maxwell went on a Congress tour of Miami and Puerto Rico performing with Jason Molina's team Sabor a Fuego. In year 2008 he started choreographing for Unique Dance Team and at the beginning of year 2009 he also started performing with them.
Tyler
Tyler Whitfield is a street dancer who started at the early age of nine. Tyler began with breaking, and at the age of twelve started to expand into house and then popping. Battling across Canada, Tyler has had the privilege to compete against some of Canada's finest dancers, and also danced along side them.
During his dancing career Tyler has earned respect from some of the original pioneers of Hip Hop. Fortunately Tyler was able to meet and be educated by Ready 2 Rock crew, Dynasty Rockers, Mambo Rockers, Ten of Quad, Mikey Disco, Caleaf, Prosentjit Kundu, and members of the Zulu nation. Tyler hopes to remain humble and hopefully share his knowledge and inspiration to other dancers.
Asha Marshall
Asha Marshall, dancer, choreographer, teacher and founder of Love Your Movement Corporation is focused and enthusiastic towards living her life as a dancer. Her determination and her commitment show in both her training and practice. In just a few short years, she has performed in China, Las Vegas, L.A., New York, Vancouver, Toronto, joined one of Canada's top dance crews, has won several national and local competitions, has opened for numerous artists and top rated dance crews, has inspired students of all ages and levels in and around Edmonton, Alberta, and has become 100% entrenched in a dance lifestyle.

As a member of Fly Girlz Dance Crew, 2010 World Hip Hop Championship bronze medalists, Asha trains vigorously with as many respected choreographers and hip hop icons as she can. She is focused on becoming a well rounded artist who places no personal limitations on style and/or technique. Asha is focused on spreading her love of art and hip hop across borders and is determined to inspire the artists of today. "I want everyone to believe that they can achieve whatever they want to achieve, as long as they're willing and committed to believing in their dream and in doing what it takes to achieve it." Altogether, expressing herself through movement is what has opened doors for Asha and she plans on continuing on her path to success as an up and coming dancer, teacher, choreographer and entrepreneur.
Carla
Samaa Ali
Samaa began training in Bollywood dance at eighteen years old, quickly developing a devoted passion to learning and performing choreography. Within five years, Samaa became a professional performer, was featured on a Disney Channel television show, sponsored by Wal-Mart Canada, and danced at Yonge-Dundas Square in Toronto for a crowd of three thousand people. She then decided to share her love for Bollywood with others and began teaching in 2013. Since then, Samaa has taught people of all ages and loves to introduce others to the vibrancy and FUN of Bollywood. She believes that Bollywood dance crosses all boundaries of language and culture and welcomes all to join in on the party!